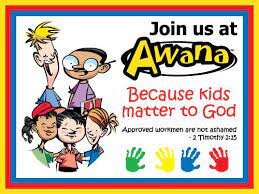 Elizabeth River Baptist Church AWANA Bible Study program
is beginning Sunday, June 5, 2022
AWANA is a Bible-centered organization whose goal is to reach children with the gospel of Jesus Christ and train them to serve Him. AWANA clubs offer group Bible study, scripture memory, team building games, and community service activities. AWANA encourages faithful church attendance and recognizes the achievement of scripture memorization and community service goals. From pre-school to youth, children have fun while being taught the Word of God.
AWANA is an acronym that comes from the first letters of Approved Workmen Are Not Ashamed as taken from 2 Timothy 2:15. AWANA is our Sunday morning children's ministry program for 3 years old through 5th grade. We want to partner with you to raise kids to know, love and serve Christ for life through a fun, dynamic approach to learning God's Word.
Who?
Kids 3 years old - 5th Grade (The adult responsible for bringing the child must be in the building when the child is present in case of any illness or other issues for the child's well-being.) Mom-Dad don't worry, we have bible study classes for you as well.
When?
The AWANA Bible Study will begin at 9:30 am every Sunday starting June 5, 2022.